Ad blocker interference detected!
Wikia is a free-to-use site that makes money from advertising. We have a modified experience for viewers using ad blockers

Wikia is not accessible if you've made further modifications. Remove the custom ad blocker rule(s) and the page will load as expected.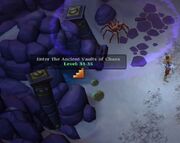 The Ancient Vaults of Chaos are a level 33-35 side dungeon connected to the Salt Barrens, in Act II of Torchlight II.
The Vault level 2 will always respawn everytime you come down from the upper level.
Species
Name
El.
Abilities
Dwarven Automata
Automatic Turret
-
Mobile Sentry
-
Mobile Spawner
Generates Shock Copters
Shock Copter
Fires Bolts of Electricity
Shock Turret
Lightning Attacks
Slaughter Scarab
-
Ezrohir
Ezrohir Infantry
Very Fast,

(Dividing)

Ezrohir Pistolier
Double-Attack, Backflip Attack,

(Dividing)

Ghost
Cursed Sword
-
Skeleton
Desiccated Bowman
Undead, Poison Arrow Hail
Desiccated Corpse
Undead, Cannot be Interrupted
Desiccated Warrior
Undead, Shield Blocks Damage, Poison
Tu'tara
Tutara Cliffguard
Leap Attach, Shield Blocks Damage
Tutara Duneranger
Hurls Bolas
Tutara Hunter
Leap Attach, Double Slash
Tutara Lancer
Hurls Spears
Tutara Sandweaver
Summons Tornados, Resurrects Tutara
Tutara Skullcrusher
Dash Attack, Bolsters Nearby Tutara, Cannot be Interrupted
Tutara Wrecker
Knockback
Species
Name
El.
Abilities
Ezrohir
Ax'cirith
Explodes on Death, Reflective Shield,

(Haunted)

Devilscratcher
Explodes on Death, Reflective Shield
Ghoulhammar
Mana Drain Field, Seeking Bolts,

(Noxious)

Hornubil
Explodes on Death, Reflective Shield,

(Dividing)

Ibizgithin
Mana Drain Field, Seeking Bolts,

(Freezing)

Nighthammar
Mana Drain Field, Seeking Bolts,

(Haunted)

Riven'zoth
Explodes on Death, Reflective Shield
Undurthizul
Mana Drain Field, Seeking Bolts,

(Explosive)

Wraiththrower
Explodes on Death, Reflective Shield