Ad blocker interference detected!
Wikia is a free-to-use site that makes money from advertising. We have a modified experience for viewers using ad blockers

Wikia is not accessible if you've made further modifications. Remove the custom ad blocker rule(s) and the page will load as expected.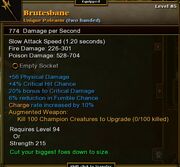 Brutesbane

Level 85
Unique Polearm
(two-handed)
774 Damage per Second
Slow Attack Speed (1.20 seconds)
Fire Damage: 226-301
Poison Damage: 528-704

Empty Socket
+56 Physical Damage
+4% Critical Hit Chance
20% bonus to Critical Damage
6% reduction in Fumble Chance


Charge

rate increased by 10%
Augmented Weapon:
Kill 100 Champion Creatures to Upgrade (0/100 killed)
Requires Level 94


Or


Strength 215
Cut your biggest foes down to size.
---

(New Abilities after Augmentation)
8% Critical Hit Change (12% total)
60% bonus to Critical Damage (80% total)