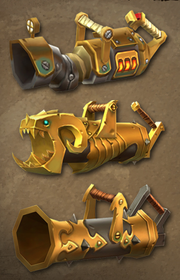 Cannons are a type of ranged weapon introduced in Torchlight II. They are two-handed weapons and have a slow attack speed and large damage cone. Cannons are generally used by specialized Engineers, although any class can use them.
Compared to Shotgonnes, Cannons have a longer, wider cone of effect, and deal higher damage, at the expense of a slower re-fire rate.
All cannons convey a 35% chance to stun targets for 2 seconds on hit.
Legendaries
Edit
Ad blocker interference detected!
Wikia is a free-to-use site that makes money from advertising. We have a modified experience for viewers using ad blockers

Wikia is not accessible if you've made further modifications. Remove the custom ad blocker rule(s) and the page will load as expected.