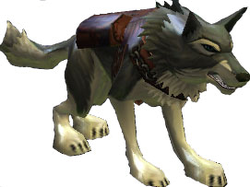 The Dog is one of the possible pets chosen at the title screen when creating a new character in Torchlight.
The Dog and the Cat are the only pets available in the original version (online purchase) of the game (Whilst the Ferret is only available in the retail box edition of the game by normal means, And the Chakawary is only available in the XBLA version on the game).
There are Dogfish available at the general store occasionally if you transformed your Pet into something else and want to change it back.
A slightly modified version of the Dog, the Wolf, is one of the ten available pets in Torchlight II.
Ad blocker interference detected!
Wikia is a free-to-use site that makes money from advertising. We have a modified experience for viewers using ad blockers

Wikia is not accessible if you've made further modifications. Remove the custom ad blocker rule(s) and the page will load as expected.