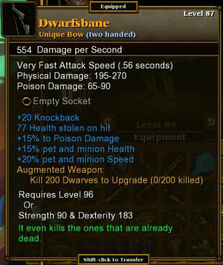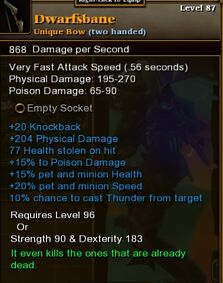 Dwarfsbane

Level 87
Unique Bow
(two-handed)
554 Damage per Second
Very Fast Attack Speed (.56 seconds)
Physical Damage: 195-270
Poison Damage: 65-90
Empty Socket
+20 Knockback
77 health stolen on hit
+15% to Poison Damage
+15% pet and minion Health
+20% pet and minion Speed
Augmented Weapon:
Kill 200 Dwarves to Upgrade (0/200 killed)
Requires Level 96
Or
Strength 90 & Dexterity 183
It even kills the ones that are already
dead.
---
(New Abilities after Augmentation)

+204 Physical Damage
10% chance to cast Thunder from target
Ad blocker interference detected!
Wikia is a free-to-use site that makes money from advertising. We have a modified experience for viewers using ad blockers

Wikia is not accessible if you've made further modifications. Remove the custom ad blocker rule(s) and the page will load as expected.