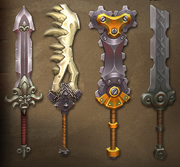 Great Weapons are a type of two-handed melee weapons introduced in Torchlight II. They include swords, axes, hammers, and apparently any two-handed melee weapon. According to the official site, "greatswords serve as the badge of office for the Emperor's Guard, and Imperial Engineers use massive, two-handed spanners and hammers on a daily basis."
In Torchlight II, characters have specialized animations for wielding two-handed weapons, which they did not have in the first game.
Rare Greathammer
Edit
Icons
Name
DPS
Attack Speed
Item Level
Required Level
(OR) Requirements
Set
Ole's Massive Wrench
160
1.56
15
19
Strength 27
Vitality 27
Ole's Tool
Unique Greatswords
Edit
Severance originally has two sockets *
Unique Greataxes
Edit
Unique Greathammers
Edit
Ad blocker interference detected!
Wikia is a free-to-use site that makes money from advertising. We have a modified experience for viewers using ad blockers

Wikia is not accessible if you've made further modifications. Remove the custom ad blocker rule(s) and the page will load as expected.