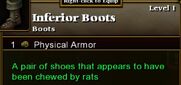 Inferior Boots

Level 1
Boots
1
Physical Armor
A pair of shoes that appears to have
been chewed by rats.
Inferior Boots is one of three reward choices when completing 

Cacklespit's Brew

. It is nothing but what is said in the description. It is very useless and aside from that, you can just earn a very small amount of gold when you sell it.
It is a reference to this Penny Arcade comic
Ad blocker interference detected!
Wikia is a free-to-use site that makes money from advertising. We have a modified experience for viewers using ad blockers

Wikia is not accessible if you've made further modifications. Remove the custom ad blocker rule(s) and the page will load as expected.