Ad blocker interference detected!
Wikia is a free-to-use site that makes money from advertising. We have a modified experience for viewers using ad blockers

Wikia is not accessible if you've made further modifications. Remove the custom ad blocker rule(s) and the page will load as expected.

Legendary is a new class of item quality introduced in Torchlight II. Legendary items are color-coded red/orange and have specific names and enchantments. They are very rare and are generally more powerful than enchanted (green), rare (blue), and unique (gold) items.
Legendary items are always weapons or shields. When unidentified, they appear with the label "A Truly Spectacular Find!" if the item's level is under 100, otherwise the label will be "A Magnificent Artifact!"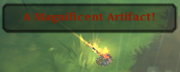 Almost every legendary item is named after a cult film, most of them science fiction, horror or crime films.