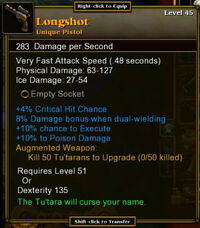 Longshot Level 45
Unique Pistol
283 Damage per Second
Very Fast Attack Speed (.48 seconds)
Physical Damage: 63-127
Ice Damage: 27-54

Empty Socket

+4% Critical Hit Chance
+10% chance to Execute
+10% to Poison Damage
8% Damage bonus when dual-wielding

Augmented Weapon: Kill 50 Tu'tarans to Upgrade

Requires Level 51
  Or
Dexterity 135
The Tu'tara will curse your name.

---

New Abilities after Augmentation

-72 to All Armor per hit
1% chance to cast Fully Heal Self on kill


While the exact accuracy of this cannot be determined, in trials purchasing a Pistol from the gambler for the (unmodified) gold amount of 5610 gave the Longshot every time. Check in with the Duros the Blade in The Imperial Camp. (This worked for the me three out of three times. Will keep trying to get a better picture.)
Ad blocker interference detected!
Wikia is a free-to-use site that makes money from advertising. We have a modified experience for viewers using ad blockers

Wikia is not accessible if you've made further modifications. Remove the custom ad blocker rule(s) and the page will load as expected.