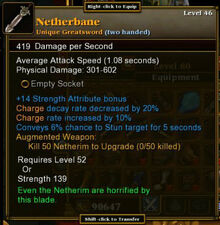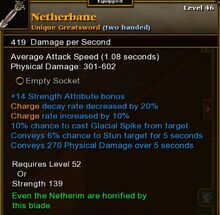 Netherbane

Level 46
Unique Greatsword
(two-handed)
419 Damage per Second
Average Attack Speed (1.08 seconds)
Physical Damage: 301-602
Empty Socket
+14 Strength Attribute bonus
Charge decay rate decreased by 20%
Charge rate increased by 10%
Conveys 6% chance to Stun target for 5 seconds
Augmented Weapon:
Kill 50 Netherim to Upgrade (0/50 killed)
Requires Level 52
Or
Strength 139
Even the Netherim are horrified by
this blade.
---
(New Abilities after Augmentation)

10% chance to cast Glacial Spike from target
Conveys 270 Physical Damage over 5 seconds
Ad blocker interference detected!
Wikia is a free-to-use site that makes money from advertising. We have a modified experience for viewers using ad blockers

Wikia is not accessible if you've made further modifications. Remove the custom ad blocker rule(s) and the page will load as expected.