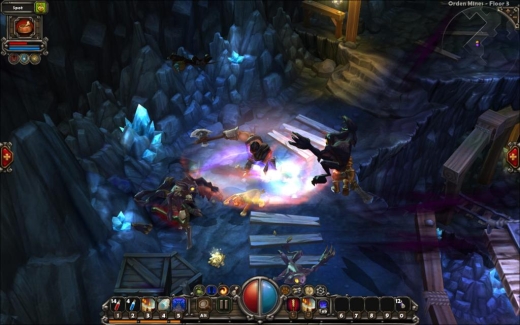 Orden Mines cover the first four floors of the main dungeon, just below Torchlight. The mines are an introduction to the storyline of Torchlight, where the player is introduced to Syl and Alric, the two main characters of the storyline. At the conclusion of the mine floors, players battle against a creation of Alric's and a friend of Syl's.
Monsters
Edit
Ratlin Foreman
Rock Troll (weaker Troll)
The actual Boss you will be fighting is your faithful companion Brink, transformed into a monster by the corruption of the mage Alric. So you can only count on your pet to aid you in this battle.
Recurring Stat Increases
Edit
| Floor | XP Gain | Fame Gain |
| --- | --- | --- |
| Orden Mines Floor 1 | 3,500 | 0 |
| Orden Mines Floor 2 | 9,500 | 550 |
| Orden Mines Floor 3 | 29,500 | 650 |
| Dank Chamber | 0 | 0 |
Ad blocker interference detected!
Wikia is a free-to-use site that makes money from advertising. We have a modified experience for viewers using ad blockers

Wikia is not accessible if you've made further modifications. Remove the custom ad blocker rule(s) and the page will load as expected.