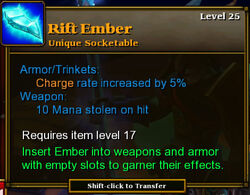 Rift Ember is a rare type of Ember that can be obtained as a reward from a side quest in the Ossean Wastes during the second Act of Torchlight II.
To get it, one must enter Tarroch's Rift and destroy the Manaforged, thus completing the One Man's Trash sidequest.
It is a unique socketable that provides Charge rate increased by 5% when socketed into armor or trinkets, and 10 mana stolen on hit when socketed into a weapon.
Ad blocker interference detected!
Wikia is a free-to-use site that makes money from advertising. We have a modified experience for viewers using ad blockers

Wikia is not accessible if you've made further modifications. Remove the custom ad blocker rule(s) and the page will load as expected.