The Scimitar is a level 4 one-handed weapon that can be sold for 19G and can be used by
The Destroyer
.
The same with all weapons, it can be bought by the Gambler (Duros the Blade) .
STATS: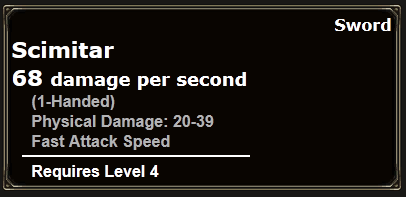 TEXT VERSION OF INFO HERE:
Sword
Scimitar
69 Damage Per Second (DPS)
One-Handed
Physical Damage: 20-39
Fast Attack Speed
Requires level 4
Ad blocker interference detected!
Wikia is a free-to-use site that makes money from advertising. We have a modified experience for viewers using ad blockers

Wikia is not accessible if you've made further modifications. Remove the custom ad blocker rule(s) and the page will load as expected.