Ad blocker interference detected!
Wikia is a free-to-use site that makes money from advertising. We have a modified experience for viewers using ad blockers

Wikia is not accessible if you've made further modifications. Remove the custom ad blocker rule(s) and the page will load as expected.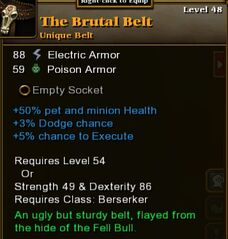 The Brutal Belt

Level 48
Unique Belt
88

Electric Armor
59

Poison Armor

Empty Socket
+50% pet and minion Health
+3% Dodge chance
+5% chance to Execute
Requires Level 54
Or
Strength 49 & Dexterity 86
Requires Class: Berserker
An ugly but sturdy belt, flayed from
the hide of the Fell Bull.