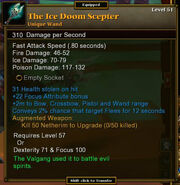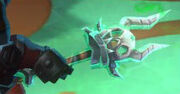 The Ice Doom Scepter

Level 51
Unique Wand
310 Damage per Second
Fast Attack Speed (.80 seconds)
Fire Damage: 46-52
Ice Damage: 70-79
Poison Damage: 117-132
Empty Socket
31 Health stolen on hit
+22 Focus Attribute bonus
+2m to Bow, Crossbow, Pistol and Wand range
Conveys 2% chance that target Flees for 12 seconds
Augmented Weapon:
Kill 50 Netherim to Upgrade (0/50 killed)
Requires Level 57


Or


Dexterity 71 & Focus 100
The Valgang used it to battle evil spirits.
Ad blocker interference detected!
Wikia is a free-to-use site that makes money from advertising. We have a modified experience for viewers using ad blockers

Wikia is not accessible if you've made further modifications. Remove the custom ad blocker rule(s) and the page will load as expected.