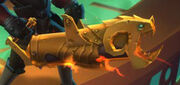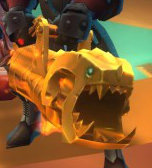 The Killdozer

Level 100
Unique Cannon
(two-handed)
681 Damage per Second
Very Slow Attack Speed (1.32 seconds)
Physical Damage: 239-479
Ice Damage: 180-359
Poison Damage: 180-359
Empty Socket
+50 Knockback
+2% Critical Hit Chance
20% bonus to Critical Damage
All Damage Taken is reduced by 2%
+5% Potion effectiveness
5% chance to cast Raise Shadowling on kill


Charge

decay rate decreased by 10%


Charge

rate increased by 5%
Conveys 39% chance to Stun target for 5 seconds
Conveys 950 Physical Damage over 5 seconds
Conveys Silences for 1 second
Requires Level 100


Or


Strength 146 & Vitality 167
Everyone knows a machine cannot kill
... except the machine!
- The name of this weapon is most likely a reference to the Killdozer, a fortified bulldozer used by Marvin Heemeyer to terrorizethe residents of Granby, Colorado, after he felt wronged by the local government.
Ad blocker interference detected!
Wikia is a free-to-use site that makes money from advertising. We have a modified experience for viewers using ad blockers

Wikia is not accessible if you've made further modifications. Remove the custom ad blocker rule(s) and the page will load as expected.