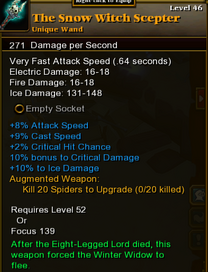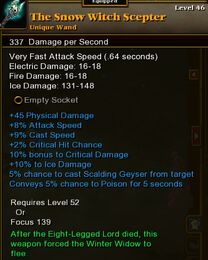 The Snow Witch Scepter

Level 46
Unique Wand
271 Damage per Second
Very Fast Attack Speed (.64 seconds)
Electric Damage: 16-18
Fire Damage: 16-18
Ice Damage: 131-148
Empty Socket
+8% Attack Speed
+9% Cast Speed
+2% Critical Hit Chance
10% bonus to Critical Damage
+10% to Ice Damage
Augmented Weapon:
Kill 20 Spiders to Upgrade (0/20 killed)
Requires Level 52
Or
Focus 139
After the Eight-Legged Lord died, this
weapon forced the Winter Widow to flee.
---
(New Abilities after Augmentation)

+45 Physical Damage
5% chance to cast Scalding Geyser from target
Conveys 5% chance to Poison for 5 seconds
Ad blocker interference detected!
Wikia is a free-to-use site that makes money from advertising. We have a modified experience for viewers using ad blockers

Wikia is not accessible if you've made further modifications. Remove the custom ad blocker rule(s) and the page will load as expected.