Tomb of Ligeia is a Legendary Claw in Torchlight 2. It is the second of five Legedary Claws in the Collection.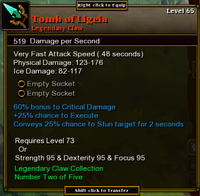 Tomb of Ligeia Level 65
Legendary Claw
519 Damage per Second
Very Fast Attack Speed (.48 seconds)
Physical Damage: 123-176
Ice Damage: 82-117

60% bonus to Critical Damage
+25% chance to Execute
Conveys 25% chance to Stun target for 2 seconds

Requires Level 73
  Or
Strength 95 & Dexterity 95 & Focus 95
Legendary Claw Collection
Number Two of Five
Ad blocker interference detected!
Wikia is a free-to-use site that makes money from advertising. We have a modified experience for viewers using ad blockers

Wikia is not accessible if you've made further modifications. Remove the custom ad blocker rule(s) and the page will load as expected.