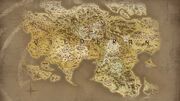 Vilderan is a continent in the world of Torchlight and the setting of both the mining town of Torchlight and Torchlight II.
Vilderan is the "cradle of civilization" for the Torchlight world, and home to the oldest races: the dwarves, the Estherians, the Zeraphi and the Ezrohir. However, humans from the Empire consider this continent to be the "new world" or the "frontier," and they have just begun to explore and colonize it.[1]
Known locations within Vilderan include:
References
Edit
Ad blocker interference detected!
Wikia is a free-to-use site that makes money from advertising. We have a modified experience for viewers using ad blockers

Wikia is not accessible if you've made further modifications. Remove the custom ad blocker rule(s) and the page will load as expected.